STOLEN / LOST BIRD ALERTS
.
HAVE YOU LOST A PET BIRD?
Here are some tips we hope will be helpful in your search
Put fliers (preferably with picture) in all pet shops in your area
Talk to pet shop personnel
Put fliers (preferably with picture) in all Vet waiting rooms in your area
Talk to Vet and personnel
Put fliers on poles, etc. in surrounding area
Put ad in classified section of newspaper
Talk to mail carriers in your area, newspaper delivery people, meter readers, dog walkers, gardeners, etc.
Set the bird's cage outside, with the door open, complete with fresh food and water. The cage is often a sense of security that the bird is seeking
Check the classified section of the local newspapers for "Birds For Sale" and contact any ad that is for the same kind of bird you lost
Post on internet lost/found bird sites

Contact local bird clubs to spread the word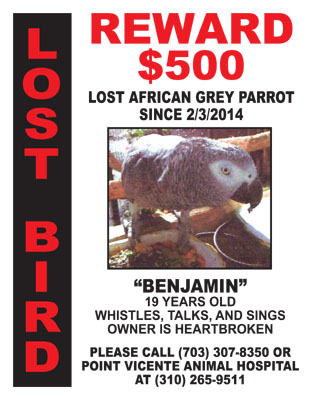 STOLEN ROSE BREASTED- REDONDO BEACH, CA - July 21/22, 2010
Hi, my name is Jerry Taxter and I live in Redondo Beach. Over the weekend of July 21/22nd someone broke into our house and stole our rose breasted cockatoo ( Galah), her name is Cherri. We have had her almost 10 years and she is very much a part of our family. Her favorite saying is, "time for bed". We will reimburse anyone for the costs incurred in securing her for us. There will be no questions, we need to have her back. I have attached two pictures of Cherri.
Would you please notify your contacts as well. Please we need to have Cherri back.
Thank you for any help you can give us.
Contact Birds & More with any info.
LOST DOG, TORRANCE, CA
North Torrance area, El Camino Village near Alondra Park
Dogs' name is Nala. Nala needs medication for seizures.
Nala is a light brown Pomeranian and is micro-chipped.
If found, contact Kimmy at 310/722-8400 or
kimmymac86@hotmail.com
STOLEN BLUE&GOLD and YELLOW NAPED AMAZON
BELMONT HEIGHTS, CA - August 2, 2011 - REWARD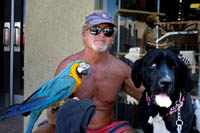 LONG BEACH - Police on Tuesday were searching for a birdnapper who snatched two well-known parrots from their owner's porch in Belmont Heights.
For years parrot owner Dennis Anderson has been a fixture on Second Street in Belmont Shore along with his Newfoundland dog and his two beloved birds - a blue and gold macaw named Tweetey and a female yellow-naped Amazon called Jay Bird that he's owned for 30 years.
On Thursday, Anderson returned home from walking his dog and found the two cages on his front porch were empty. Anderson said he's kept birds on the porch of his craftsman-style home at Third Street and Park Avenue for decades with no other incidents.
"I'm still in shock," he said. "I don't know what to do."
According to witnesses, two Latino men in a black Lexus pulled up in front of the home just before 1 p.m. One man jumped out of the car, grabbed the birds, stuffed them in a sack and the two sped off.
Long Beach Police Department spokeswoman Lisa Massacani said anyone with information is urged to call East Division detectives at 562-570-5880 or make an anonymous tip at
www.tipsoft.com
.
Parrots can be sold for several hundred dollars to thousands of dollars for an adult macaw. Massacani said she can't recall any other recent birdnappings in
the area.
"I think sometimes they might go unreported because people don't think we'll take it seriously but we do. Those birds are like family," she said. "I also want to reiterate that any time a neighbor sees anything suspicious they should call 9-1-1 immediately."
For Anderson, birds are certainly like family.
The 64-year-old landscaper, who's owned parrots since he was a child, also has two other macaws, a cockatoo and an African grey who was rescued after Hurricane Katrina. But Jay Bird and Tweety were the two who would regularly accompany him on his shoulder in Belmont Shore, attracting smiles and laughs from onlookers.
"They were my two best birds because they could travel real well," he said, adding that Jay Bird would even accompany him on trips to Hawaii.
Neither of the missing parrots have identification tags on their legs, but Anderson said Jay Bird has a bad left leg from an old injury and can whistle. She also talks and sometimes says, "Oh baby, I'm a bad boy!"
Anderson said he's working on putting up posters and generating award money for anyone who helps him get his birds back. He says he's hoping for a miracle.
"It's been hard," he said. "You get real attached to them."
LOST SENEGAL, LONG BEACH, CA - July 24, 2010 - $1000 REWARD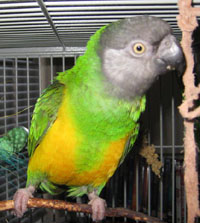 Sendi is hand tame and friendly (although I guess after her trying to play real-world survivor, she might have changed a bit). She got spooked while on my shoulder and is in hiding somewhere waiting to come out and land on someone.
She loves cheese, cereal, and peanuts. We miss her so much!!! Please help us find her! We are offering a $1000 reward if found!
Unfortunately she has no microchip or leg band. Should a Senegal parrot happen to show up at your rescue somehow, or if you know of someone who recently found one, please let us know! Thank you so much. 704-258-5052, lostsendi@yahoo.com
STOLEN TOUCANS - VENTURA, CA - March 3, 2010
Reportedly stolen approximately Wednesday evening from Ventura from van parked in hospital parking lot: Swainson's Toucan, red-billed Toucan, chestnut-eared mini Toucan.
These birds are personal pets. Please be alert for anyone wanting to buy, sell, or trade these species, especially at a price that seems "too good to be true." Please contact Christiana at 213-804-1443.
STOLEN BIRD - LAS VEGAS - CAG - March 4, 2010
10 year old pet Congo African Grey, "Baby G," stolen from home located in North Las Vegas Zip Code 89031 on Thursday, March 4. Allegedly, a white male--"not very big"--was seen leaving the house. Please be alert for anyone wanting to buy, sell, or trade this species, especially at a price that seems "too good to be true." Contact Megan 702 927 2834.
STOLEN BIRDS - FRESNO, CA - JUNE 20th, 2009
Please be on the lookout for: Following birds were stolen from a friends house in Fresno, California on Saturday, June 20 2009 between 11.45am & 3pm.
Blue & Gold Macaw - "BG" 12 years old - has quite a potty mouth. Sulpher Crested Cockatoo - 7/8 years old - Names Sonny. Bird Says "Audra" which is my friend's daughter's name. Loves young girls won't talk around many people. Green Cheek Conure - age unknown. says "Look At You" when hears water running. Name is "Wally" Jenday Conure - 7/8 months old. Named Henry Maxillion Pionus - young (Under 3 years ) male & Female pair - sketchy history on these guys but were bought locally in Fresno. Friendly birds when seperated from each other.
Any information or if anyone happens to hear of anything please email privately & I'll forward any info on. Many Thanks.
Justin & Michael
Bird Heaven Aviaries
Selma, California
www.birdheavenaviaries.com
www.myspace.com/birdheavenaviaries
---
3 Stolen Parrots: 6/03/09 - Glendale, AZ
My birds were stolen from my home Monday 6/1/09 between 11am-3pm on 12th street and Glendale. (Phoenix, AZ)

Jaden - 2 1/2 year old male goffins cockatoo. Is a mild plucker and is missing feathers from his chest. Missing several tail feathers, and was almost fully flighted when taken.

Mika - 1 year old male green quaker parrot. TALKS! Says watcha doing, mika mika mika, monkeybutt (most common phrases). Has a slightly overgrown beak which was just trimmed a couple of weeks ago.

Bailey - Female blue Indian Ringneck parakeet. Blue with a red beak..missing all of her tail feathers.

These birds were ripped from their homes. PLEASE PLEASE any information at all!!! (623) 204-8727. My name is Jan. mailto:Avianmom86@aol.com
Goffin Cockatoo Quaker Parrot
---
Gordo the skateboarding parrot stolen from his cage
By Tania Chatila, Staff Writer
Posted: 03/25/2009 04:03:06 PM PDT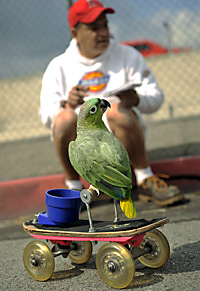 Gordo, a 30-year-old Guatemalan parrot (Amazona farinosa), rides his skateboard on Dalewood Street in Baldwin Park on Friday, March 6, 2009 during his daily walks with owner Fred Mireles, 37, of Baldwin Park. (SGVN/Staff photo by Watchara Phomicinda)

Gordo, a 30-year-old Guatemalan parrot (Amazona farinosa), rides his skateboard on Dalewood Street in Baldwin Park on Friday, March 6, 2009 during his daily walks with owner Fred Mireles, 37, of Baldwin Park. (SGVN/Staff photo by Watchara Phomicinda)
BALDWIN PARK - An exotic icon known throughout Baldwin Park as the skateboarding parrot has gone missing. The bird-napping occurred about 10:30 a.m. Wednesday as Gordo - a green Malaysian parrot from Guatemala - played in his cage on the front porch of his owner's Bess Street home. "My mother was at home and she heard somebody trying to break into the cage," said Fred Mirales. "When she went out there, the guy was already (running away)." Gordo has become a popular city figure, said Mirales, who has had the 30-year-old parrot for about a decade. Mirales would drive in his car with Gordo on his shoulder, take Gordo out mountain biking, and even made a mini-skateboard for Gordo. The two would take daily walks together. "I'm 47 years old and I don't have a child," Mirales said. "(He) was like my kid. I'm devastated." The incident was reported to Baldwin Park police, but officials say a case like this won't be easy to crack. "Unless we have information or some kind of lead to follow up, it's extremely difficult," police Sgt. Darryl Kosaka said. Animals are often stolen from their owners to become pets in other households, or to be sold, Kosaka said. Gordo is worth $5,000 or more, Mirales said. "But it's not about the money, it's just the companionship," he said. "I almost died about two years back and he helped me." Mirales said he was hit by a truck two years ago and part of his rehabilitation was exercise. That's when Mirales made Gordo the mini-skateboard. "It pressed me to walk," Mirales said. "(Gordo) was my physical therapist." Mirales said Gordo is an indoor parrot, who was only in his cage a few hours day, while Mirales went to school. "Usually, I would keep him inside in my room, watching TV," he said. "He would tell me at 9:15 p.m. to turn of the lights." Mirales said whoever stole his bird is likely going to get caught because Gordo is so well-known in the area. He also said Gordo isn't used to strangers. "They are up against a can of worms," Mirales said, "because once (Gordo) realizes he doesn't belong there, he's going to start biting." tania.chatila@sgvn.com (626) 962-8811, Ext. 2109
.
---
PLEASE SEND TO ANYONE IN CT AND SURROUNDING STATES. THIS IS JUST HORRIBLE.
Regarding the 8 stolen Greys in CT - REWARD Contact: 860.886.BIRD (2473) or info@ALLABOUTPARROTS.COMFrom: Barbara Pagano Sent: Friday, October 31, 2008 1:15 PMI am reaching out to you today with the greatest hope you will download the Parrot Theft flyer to distribute on your travels. Local pet stores, veterinarian offices and any other location that may help with the recovery of my greys. It is disturbing to observe the torment the few remaining greys have indicated since this atrocious act. In the dark of the night 8 greys were torn from their flock, some from their selected partners of years, others from their clutch mates. Two brothers remained together 19 years, only to be torn apart in such a frightful way. They were not in breeding cages or a breeding situation. They were free flighted and flocked together for many years simply for sheer enjoyment and for the purpose of documenting flock behaviors.I ask that you help my parrots return home by continuing to download the flyer from www.connecticutparrotsociety.org/PARROT_THEFT.pdf Kindly continue to distribute it on your travels. If you have a website of personal web space, please post a notice & link to the flyer on it as well.If you have any information, please contact Barbara at 860.621.5790 or leave a message for Barbara Pagano at 860.886.BIRD (2473). You may also email info@allaboutparrots.com Do you wish to remain anonymous? Fill in the comment section on the contact us form located at www.allaboutparrots.com/contactus.htmI believe my African Greys could be just about anywhere. Out of state is also a great possibility. The State Police is actively pursuing these criminals as well. You can help. Distributing flyers and making the public aware may reunite these missing African Greys with their flock.In the meanwhile, please continue to pray for the safety of my stolen birds. Pray they are being treated well. I know my father is finally reunited with both my brothers in heaven. That gives me great peace. Not knowing of the whereabouts of these precious birds will continue to haunt me until we are reunited. Please, help them come home.
Barbara
---
Please help! My macaw flew out the door!
On Tues. Aug. 12th my adult military macaw flew out the door after being spooked by something. He just came to live with me a couple weeks ago from a neglectful home. He probably hasn't flown in at least 6 years and hopefully he hasn't gone far. He was last seen in Long Beach 90808 by Stevely Ave. and E Premium St next to El Dorado Park. He is only talkative sometimes and likes to say hello and the dog's name, Rusty. He is green and has been picking at his chest feathers so they are very ruffled. If seen please contact Sean at 909-286-6564 or Merritt at 213-509-8187.

Thank you,
Merritt Johnson

---
MISSING RED PARROT (Scarlet Macaw)
Alan Kapilow lost his red parrot (Macaw) Sunday, June 22 near Buccaneer and Speedway in Marina del Rey. The bird's name is Merlin. He has a chip and is banded. He's red with green wings. He's big, but friendly. He's 6 years old and can say "water".
On Tuesday, June 24, Alan received a call from someone who said they saw a sign about a found bird near the jetty. Alan has not seen any such signs and never heard from anyone else, but he's wondering if someone else may have seen a "Found Bird' sign. If you saw the "Found Bird" sign, please contact Alan. Alan Kapilow is offering a $1,000 reward. If you have seen or heard about a found bird or if you have any suggestions of where else to post or how to go about finding this bird, please email Alan Kapilow at
kapilow@dslextreme.com. His phone number is 310-678-1367.
If you should see Merlin, please call to him to come to your arm. He will come and is probably very frightened and hungry.
---
LOST AFRICAN GREY
HELLO! I LOST MY BELOVED FEFEO AFRICAN GREY ON 7-4-08, FROM MY HOUSE IN HIGHLAND PARK-LOS ANGELES 90042, I AM DEVASTATED! HE HAS A BAND AN HIS NAIL AND WINGS WERE DUE FOR A CLIP THIS WEEK. PLEASE LET ME KNOW OF ANY NEWS, IF ANY. THANK YOU FOR YOUR GOOD WORK AND SUPPORT!
SUSANNA RADAELLI 323-2585150 OR OFFICE 818 7636045
THANK YOU
---
STOLEN MACAWS in Sylmar CA

Wednesday, 12 Jun 2008
Contact: afoltp@earthlink.net

Yesterday someone(s) stole my two macaws - Toro my hyacinth and Magic Johnson my blue and gold. They are both approximately 14 years old and were raised by me since they were two weeks old. Toro a female is a closet feather picker and has some bald spots on her legs and under her wings, Magic Johnson a male has a band on his right leg. They both speak several words and phrases.

They were stolen from my offices at 15751 Roxford St Unit A Sylmar, CA 91342

Thank you in advance for any help you can offer.

Al Osterloh
---
45 Parrots Stolen From Renowned N.Y. Pet Store
Aug 14, 2007 6:15 pm US/Eastern
45 Parrots Stolen From Renowned N.Y. Pet Store(CBS) ROCKVILLE CENTRE, N.Y. Police are searching for suspects behind a
major bird heist from a pet store in Rockville Centre, costing the owner
thousands of dollars.Authorities say 45 parrots in all were stolen from the store owned by Mark
Marone, a frequent guest known as "The Pet Keeper" on The Martha Stewart
Show."They took Amazon parrots, they took African gray parrots, they took
cockatos," Marone tells CBS 2 HD.Marone's store, "Parrots Of The World," lost approximately $58,000 from the
heist. "That's about 1,200 bucks a bird," he says.Police
---
Bird Thieves Caught - Spokane, WA
Hi to all, Two birds were stolen in Spokane, WA from two local bird stores- The Bird Shop and Bird Lovers Outlet. A recently weaned Goffins Cockatoo was stolen from one and a yellow collared macaw that was not weaned, from another. The same woman stole these birds from both stores. This woman is named Brandy and resides at 1908 W. Garland, Spokane WA. Her home phone number is (509) 891-4000. Her physical description is a caucasian woman in her mid 30's. She is between 5'2" and 5'5" and weighs around 250 lbs. She rarely works alone and was seen in one store with a Hispanic male and in the other store with an African American woman. The womans children are of mixed race varying from Caucasian to African American backgrounds. The children have been seen both with the woman and alone, enterring stores before or after their mother when not with her. Another woman named in this is named Cathy Trombinas(sp?). I do not have any other information on her. This woman returned to one of the stores and made direct inquiries as to the whereabouts of one bird claiming she had been interested in purchasing it. She asked to be placed on a list to be called when new babies came in. A relative of Brandy's turned her in to one of the store owners after having seen a reward posted on Craigslist. Another store also disclosed that the woman was in one of their national chain stores trying to"return" stolen bird supplies for money. Upon arrival at this womans house, she was found trying to secret the baby Goffins from her home. It was taken by force by one of the store owners and demands were made for the other bird. The police had been called already but had not arrived. This woman adamantly claimed the bird was hers and that she had purchased it. She then changed her story and made comment that the macaw had already been sold. She claimed she sold it in a Walmart parking lot. She also claimed to have sold an Amazon to a rescue in Post Falls to a man named Mitch. No such rescue is known to exist there, but a man named Mitch from Post Falls has frequented local stores. It is not known if he is a part of all this or not. The woman did let one of the store owners enter her home after the Goffin had been recovered. The only cage in the house was a small parakeet sized cage. It is assumed the Goffin was kept in this. When the police arrived, she changed her story numerous times finally admitting that she knew where the other bird was but refused to have it produced. The bird store owners both promised to not press charges if it were returned. She finally relented to have the bird brought back. She asked that the news crew present (Khq Q-6 tv) be told to leave, but luckily that was not a demand willing to be met. Further discussion with the officers disclosed that the woman was part of a very large bird theft ring that stole birds state and areawide and sold them statewide. They would enter stores and put birds in their clothes or in a purse and walk out. The woman admitted to being a part of this ring that stole birds from Evergreen Pet Store, Petco, Petsmart and stores located all over outside of Spokane. Help put an end to this Bird Theft Ring. Pass on this information or add more information you may know. Be aware that these people have no scruples and indications were made that birds may have been traded to settle debts that may or may not be drug related as well. These people may have even stolen birds from private parties. They must be stopped. If you have any other information, have been a victim, or know of someone who has, please contact your local authorities or feel free to let me know. Any and all help is appreciated. Both birds recovered were dehydrated, hungry and weak, but otherwise ok. They both will have to be quarantined as it is unknown what other birds or situations they were subjected to. Thank you and God Bless,
Pam D. The Bird Lady from Spokane, Wa. My URL
http://www.myspace.com/birdladyspokane
My Blog URL
http://blog.myspace.com/birdladyspokane

---
Stolen Birds in Winters, CA
Monday, July16th, 2007 - Winters, CA AreaPLEASE CROSS POST PLEASE CROSS POST PLEASE CROSS POST
Samantha Hughston of Winters California had the following birds stolen last night between 7 and 10:30 pm PDT 1 Hyacinth macaw microchipped and banded family pet
1 pair of blue front amazons - one blind - says hello
1 pair Congo African Greys - hen says - help, help, help water
1 Hahns macawSamantha, as you can guess, is devastated. Her number is 530-574- 2984. The thieves left a net and fingerprints were lifted. The Solano county sheriff number is 707-421-7090. The case number is 07-4782 and the deputy's name is Deogracis Gastar, JrIf you are approached by anyone offering these birds, please contact Samantha.Any and all suggestions are appreciated. We are making flyers to put out at local feed stores, etc.
Thanks in advance!
---
Thursday, June 14th, 2007 - San Diego, CaliforniaSTOLEN - 7 Breeding Pairs of Congo Greys as well a 2 day old baby bird and fertilized eggs stolen from breeder in San Diego area. Please advise if you hear of anyone trying to sell them or if anyone contacts you as to how to care for the two day old baby and fertile eggs. Thanks!
Contact Gail Worth through birdsnmor@aol.com
---
Saturday May 26, 2007 - Fresno, California AreaSPREAD THIS AROUND TO ALL THE BIRD LOVERS YOU KNOW!!!!!!
Subject: Stolen macaw and African grey (Fresno area)Stolen - African grey and macaw - Fresno area On Saturday May 26, 2007 at 8:00am, (in Fresno area) thieves used bolt cutters to remove the locks, then stole my sister's Congo African Grey and Blue and Gold Macaw parrots from her backyard. This has been a devastating event for my sister Sandi, since she is single and loves them like children. Both birds are attached to each other as their cages have been next to each other for the last 15 years. Sandi is very concerned about their stress levels because they are extremely attached to her and their environment. Because we believe that the thieves may sell them to unsuspecting buyers who won't be able to handle them they may be sold again or be abandoned or become rescue birds. We are asking you to please save this letter so if in the future month when birds that may fit their description come across your path you would please contact us.Roady - An African Grey has lived with Sandi for over 20 years and has never been sexed. She was full feathered and very healthy. Some of her favorite words "Sandi, or Sandra" She whistles the Andy Griffin Show theme song and other names she calls are "Johnny, Major and Milo " She likes to imitate a rooster, peacock, hammer, telephone, mumble on phone, kitten, dog barking, moos like a cow (lives a on dairy) Whispers "Shhhh, be quiet! Makes kissing noises, Donald Duck voice and giggles with Major.Major - A Blue and Gold Macaw is 15 years old and has been raised by Sandi since she was 6 weeks old and was surgery sexed. Major was full feathered and healthy but can only be handled by Sandi. She does have a titanium band on her right foot, not sure if the number is still visible. She did lose a large number of feathers in the struggle when she was stolen. Her favorite phrases, "Milo,get the ball! and screams Milo's name. She screams the word" Mom" HI! HI! HI! "Grace, Out! Out! Out!" "Ouch, stop that!" And screams like a little girl(from the neighborhood). "Good boy, Major!"Our main concern is the bird's safety and getting them home as soon as possible with limit amount of stress. No questions asked, just want their safe return.Sandi Lea, Laton, CA 93242
(559) 287-3600, (559) 923-4305
Shella Caroni, Arroyo Grande, CA 93420
(805) 473-0304 shellacar@yahoo.com
---
January 4, 2006 ------Please feel free to cross-post--------Everyone around Los Angeles CA area, please keep an eye out for anyone trying to sell my babies:Last night, someone broke into my backyard aviary, stole 7 parrots and killed one. The birds taken were: a pair of Eclectus (Solomon male and possible RS/Sol mix female), 2 Mexican red headed amazons (aka greencheek Amazons); 2 Whitefronted Amazons (aka spectacled amazons) and 1 Bluefront Amazon.They killed my beautiful Solomon Eclectus girl, Lili, and left her brother Lani very traumatized.(but thankfully safe!!)The ekkie pair are semi tame, but sweet and still handleable. The 4 amazons I raised from babies, they are tame and can say a few words. The Bluefront Amazon is not 100% healthy - she had aspergillosis, still has breathing difficulties, and may need meds. I am afraid that in the wrong hands, she will end up dead.I am guessing these thieves are not pro's, they only took the "easy to get" birds, and were unable to remove my biting bluefront male and his lady (good boy, Chico!), or my wild vos eclectus pair, or Lani.Please, crosspost, get the word out to pet store owners, sellers, breeders. If anyone has any suggestions, or knows any "shady" shops or sellers (especially downtown or east LA areas), please let me know. I have called every bird store I could find in the LA area, but every little bit helps. If you can print or post a few flyers, I can email you a graphic or send copies by mail. I am absolutely heartbroken, these are my babies...
Thanks!
Contact Anna Kasho
jojo_acridens@hotmail.com
(310)562-0172
.